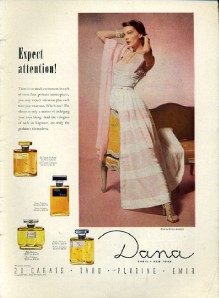 Emir was released in 1936 and often promoted with the original Dana fragrance , TABU . I owned a bottle of Tabu in high school , but never really felt like I was grown up enough to wear it . Platine and 20 Carats are also featured in the ad you see here ( I found it on eb*y ) .

My dear friend Chris found me small bottles of Tabu and 20 Carats along with the larger bottle of Emir when she was in Detroit . The Emir has no label , just the word DANA in raised glass on the bottom of the bottle . Once I began searching , it was obvious the larger bottle was Emir . Each fragrance has it's own unique shaped bottle .
Created bt Jean Carles in 1936 , Emir is an exotic leather/chypre , with a bittersweet opening , a soft floral heart and a sueded drydown reminiscent of Tabu , although softer .
Though the top has gone off a little , I love the scent after a few seconds . I get alot of iris in the heart - so soft and powdery . No one flower stands out , the bouquet is well blended ( Rose ? Jasmine ? ) Then the base kicks in with lots of vanilla-tonka , and just a touch of animalic growl . The three-lobed art deco bottle was designed by Javier Serra .
I bet the parfum version is a knockout !